Today marks one week that I have been home on summer break. It has been awesome not to have any assignments due or tests to study for but let me tell you... I'm glad I have a job this summer! Most of my friends were still taking finals this week so I have been BORED. I'm glad that the week is over and they'll start moving back.
As far as my job goes, I will be nannying for a family of three children. The ages are 5,7, and an infant (I want to say 2 months old...). I found this lady www.care.com and I'm excited to get to know her and her husband! I'll have to admit, it was nerve-wracking finding a complete stranger to nanny for all summer. Back in the end of March, I had a phone interview with her and then in April, I met with her at Starbucks. Today, I will go over to her house and meet the kids. From what I've seen she seems very nice and compatible. But if you don't hear back from me, make sure they make a Lifetime movie about me. That'd be awesome!
Kidding
...
The high school I went to had graduation last night. It makes me sad that next year, that will be my baby brother. I remember the day he was born. He's such a good kid and sometimes I forget that I am so lucky to have such an amazing family.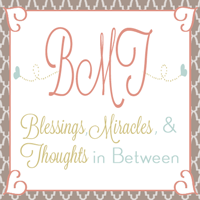 Today, I mailed my cheek swab to be put in the registry for being a bone marrow donor. I have been following Lindsey over at
BMT Blog
for a couple of years now. You can go read their story but they have two beautiful children who both have a rare genetic disorder that requires them to need bone marrow transplants. Kate, their oldest, was matched with a generous donor and her life was saved a little over a year ago. Will, who is one, had a donor but recently the donor backed out after months of preparation. Without this donor, Will could die. Although the chances of being chosen to become a donor for anyone is slim, I feel called to be put on the registry. The process is so simple. You sign up online after reading the expectations and they send you four cotton swabs in the mail and you swab the inside of your cheeks and send it back. It's that easy! I highly recommend you to consider signing up. Although it could involve surgery, it could save someone's life. I decided to sign up after I saw a friend of mine on Facebook was matched with someone who needed it. I've been praying for him every day and I ask that you do too, along with sweet Will and his family. They need a miracle right now.
Happy Friday, friends! And if I don't come back you know that this "lady" has most likely kidnapped me. ;)